No matter what business you're in, making even just part of your video content live will give you a boost to your brand. Whether you're a social media entrepreneur, earning your living with video and photo shares on YouTube, Instagram, Twitter, and Facebook or a more traditional business that typically uses ad agencies for professional TV spots, this article will show you there's something to gain from going live.
Reason 1 – To be spontaneous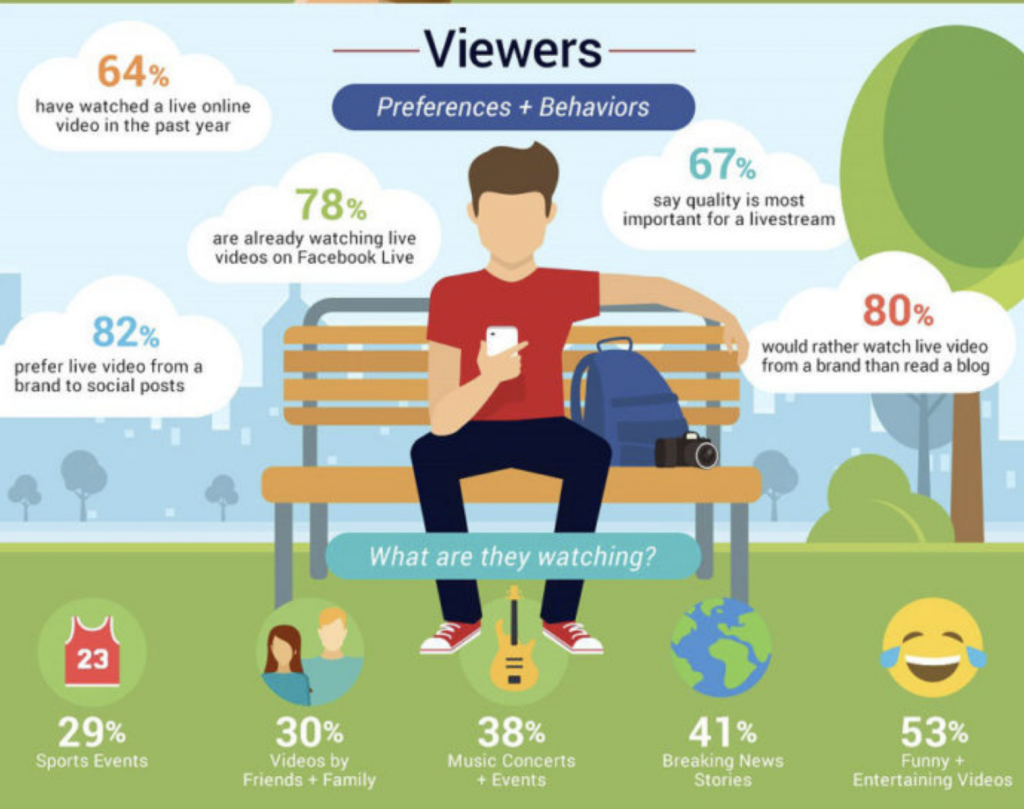 Like the image above explains in infographics, there has been a dramatic increase in the way live streaming has impacted any business. With over 60% ( That is 6 out of 10 people worldwide internet users) who have watched a live video, it is bound to increase year on year. The increase shall specially impact Brand, Corporate companies which can leverage the brand by reaching out real time and be spontaneous with the customers. Be it launch of a new product, or a live seminar – It does increase Brand consciousness among its customers.
Reason 2- Growth of Social Media Platforms for Live Streaming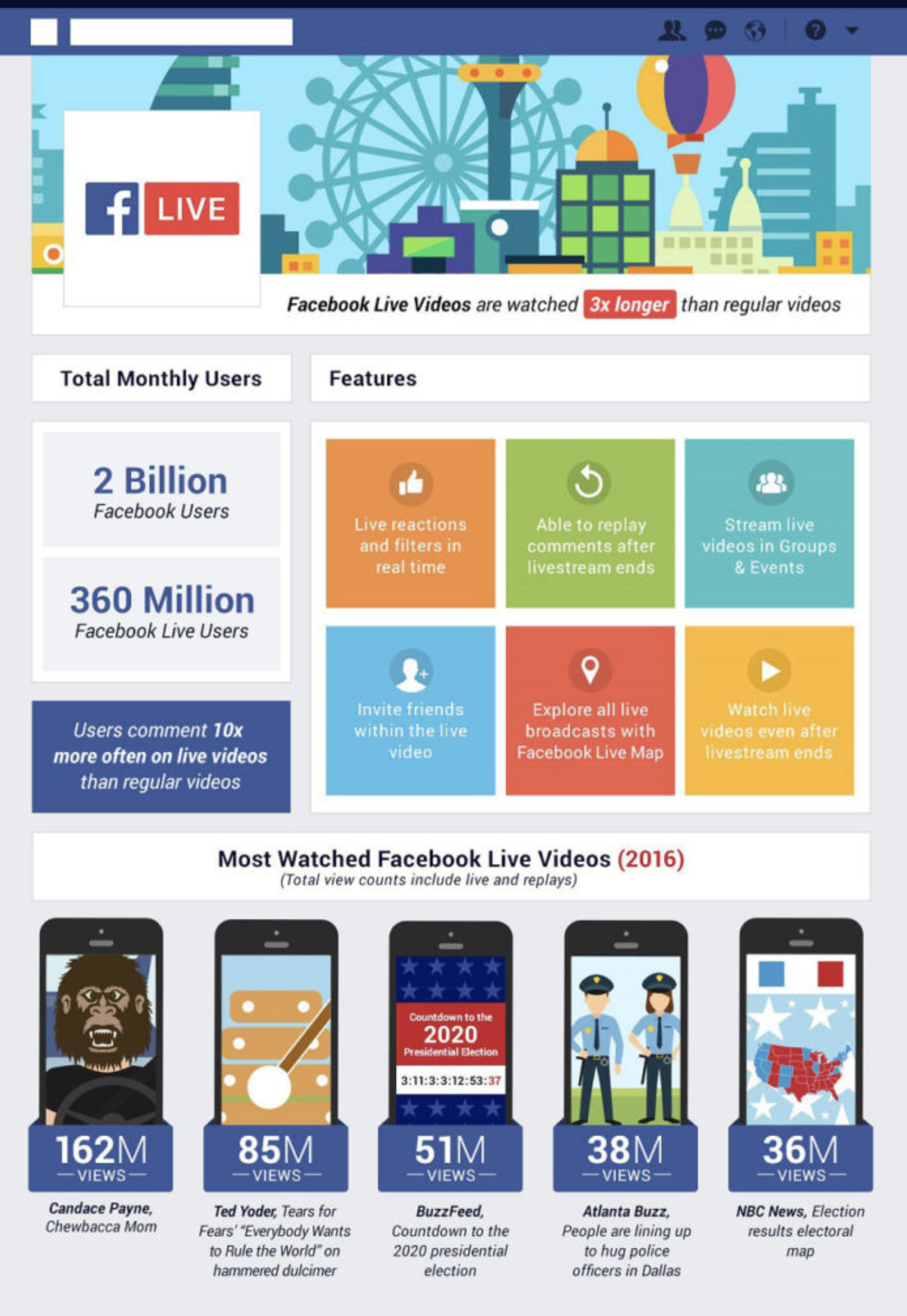 Facebook has dominated the Social media platform for over a decade now, and its constant reinvention and adding new features has made it prominent even to this day. Facebook Live now supports full HD 1080p streaming, which makes it very essential to be used a great platform to stream a live event.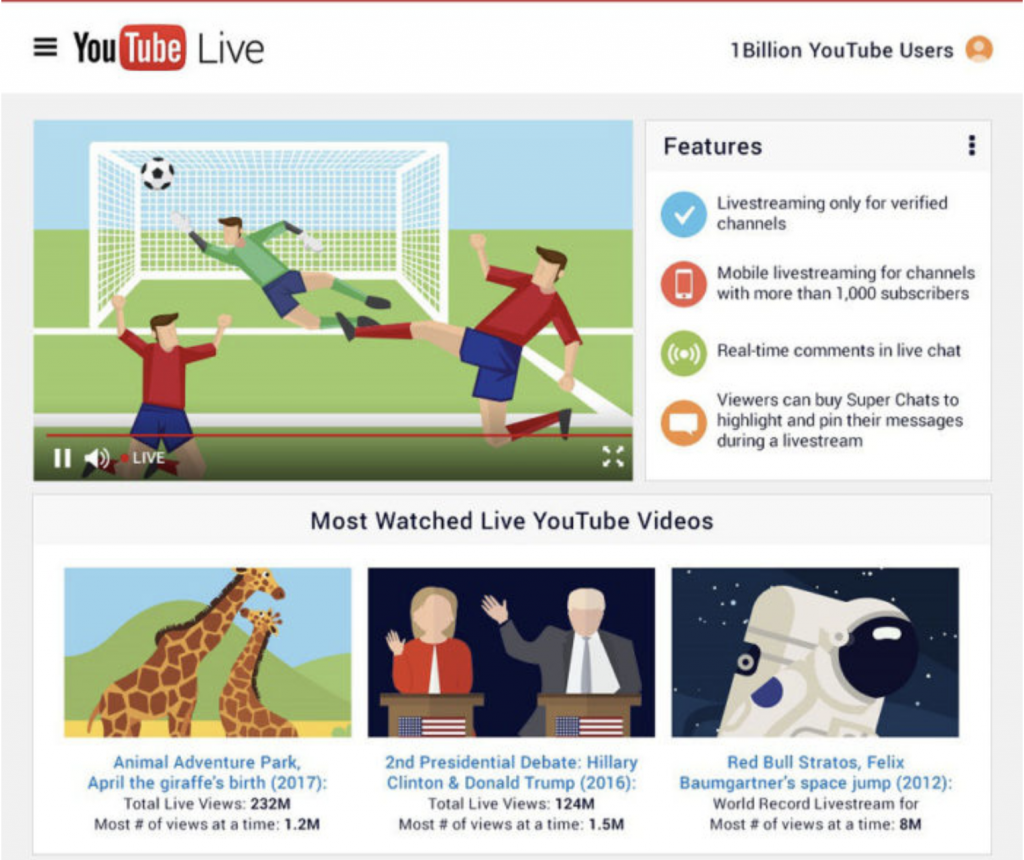 Similarly, Youtube has an evergrowing demand for content, and one primary source of content shall be from Live Streaming in the next coming years.
Reason 3 – Build a Brand personality
Unlike videos that are shot and edited into formal video spots, live video can introduce uncertainty and expose the human foibles that we all have. Live video isn't perfect. And this is part of its charm.
Live streaming experts we've spoken with tell us that their audience is most engaged when they see the real people behind the brand, celebrity, business, or broadcaster. They even like to see the mistakes that are made because they humanize the occasionally one-sided corporate image.
Another big benefit of live video is the ability to take questions and answer them live, or even to give shout outs to watchers. This audience engagement increases audience retention, and makes viewers more likely to endorse your brand.
For content creators, the key is to be unscripted. To talk with your audience, make mistakes, and show your human side. Similarly, brands and celebrities can take the unscripted or lightly scripted approach to soften their identity, break the fourth wall, and take a different approach to marketing.
Reason 4 – To build awareness and grow your audience
Not only can live streaming endear existing fans, it can also bring in a whole new audience that traditional marketing misses. This is especially true for brands and broadcasters, but applies across all businesses.
Live video is something people also seek, specifically, compared with written content or even video on demand (VOD). Recent research by Livestream.com found that of people they interviewed, 80% would rather watch a live video from a brand rather than read a blog. That same research also shows that the average time spent for live video watched on mobile is 125% more for than that for VOD, and 1300% more on desktop!!

If you have any other comments, please feel free to let us know your thoughts about Live Streaming, we would love to hear.